An In-Depth Look at Our Sample Packs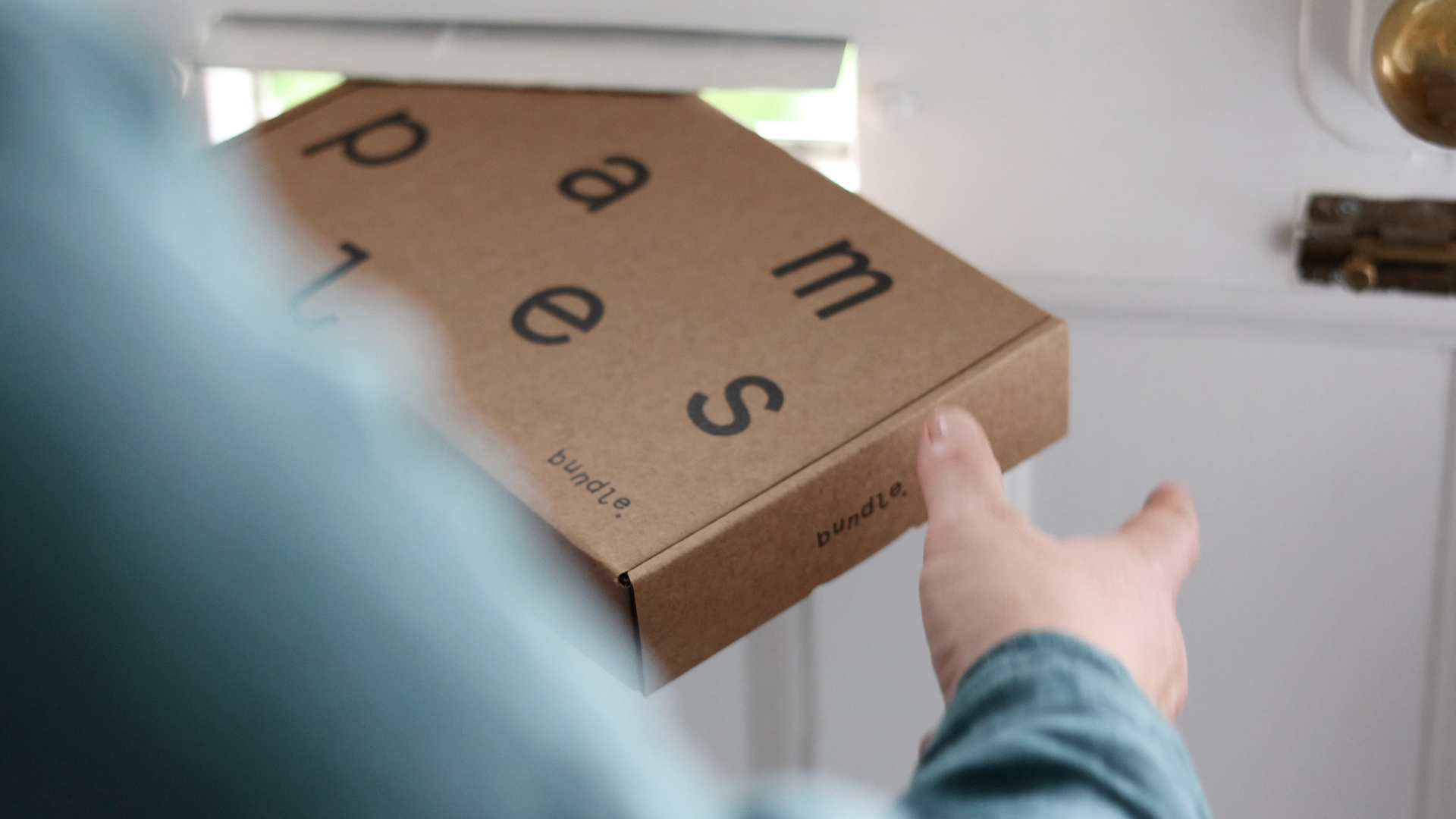 Never worry again about how your brand and colour palette will appear on printed packaging with our sample packs.
Bundle's packaging sample packs are an essential tool for designers who want to create the perfect first impression. Our packs include everything a designer needs, including product samples, sizes, and colour signatures to bring our high-quality product packaging to life.
We take you inside our Bundle packaging samples, describing what you'll get and how it can help you create final products that excite new and existing customers.
What is a sample pack?
A sample pack is a toolkit for designers to use to create the perfect packaging.
Your brand, its colours, logo and images are crucial to the success of your business. When creating bespoke packaging, we use a variety of printing methods, including digital print and flexo-print. The same colours can look different when used across materials and processes. This could lead to a damaging inconsistency in your visual identity.
Our sample packs give your designer the chance to understand how your colour palette will look on printed materials, including:
Mailers
Boxes
Labels
Tape
Tissue
Bags
You can get up close and personal with the entire range of Bundle Packaging products. To illustrate the differences in printed colour, we use signature colours to provide a demonstration of potential colour differences. You can see variations in CYMK and Pantone colours, which should guide your colour palette.
Each sample pack includes printed designs that act as guides. You can see line widths, colour combinations and tones across our entire range of packaging products and materials.
As well as colour, each packaging sample includes examples of all board weights and finishes that will help you design suitable eco-friendly packaging for your business.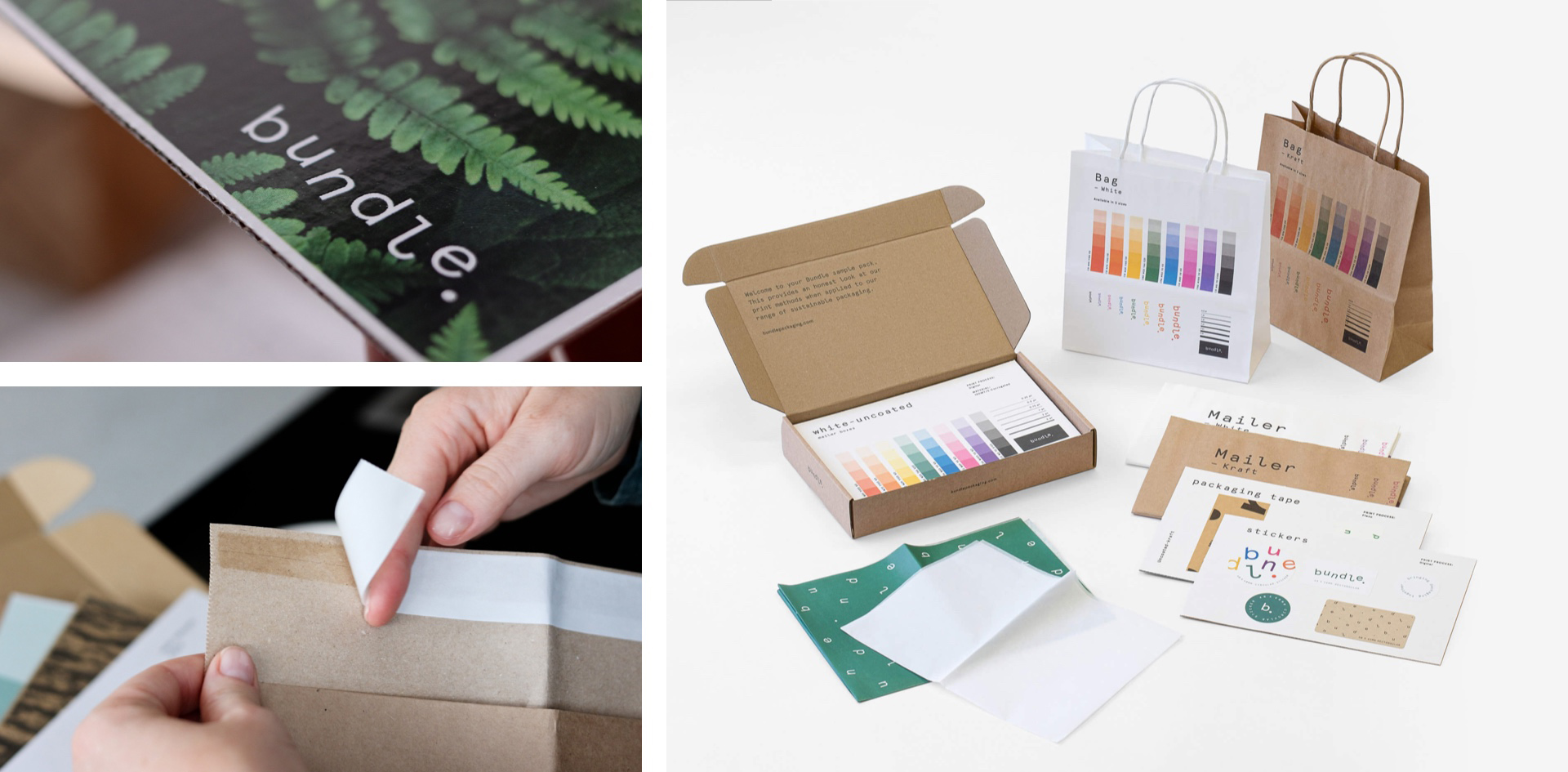 What's inside our sample packs?
Inside our sample pack, you'll find a wide variety of Bundle products, including:
Kraft and white mailers with print guides
Kraft and white E flute board with print guides
Kraft and white EB flute board with print guides
Kraft and white paper carrier bags with print guides
White coated and uncoated board comparisons
Repeated logo tissue sample
Flood printed tissue sample
Kraft and white branded packing tape
Kraft and white printed labels samples
Everything comes packed in a branded sample of our postal box and delivered directly to your door within four days.
We're confident we've captured everything in our sample boxes, but please feel free to contact us if you'd like anything else. We're always happy to discuss how we can help you identify a suitable packaging solution for your business.
Why would I want a sample pack?
Sample packs are created for designers. The samples act as a toolkit to ensure that finished products meet expectations and deliver the correct specifications.
Sample packs enable professional designers to learn about the different print processes. This can ensure that your brand and colour palette are perfectly represented across all branded packaging.
The sample pack also provides a practical visual guide of all print specifications. Having this to hand enables them to create eye-catching and inspiring designs that look great and perfectly fit into the space.
Providing your designer with a sample pack can reduce the likelihood of potentially costly design and production errors. In addition, this minimises risk, ensuring that the product you receive exceeds expectations when you place an order of whatever quantity.
But there are more benefits.
Packaging is tactile, so you'll want to understand how it feels before placing an order. Our packaging sample includes a range of products that you can touch and feel before ordering.
The sample packs enable you to experience our range of eco-friendly and sustainable packaging products. Take delivery, and you'll understand why we're the UK's leading supplier of branded packaging.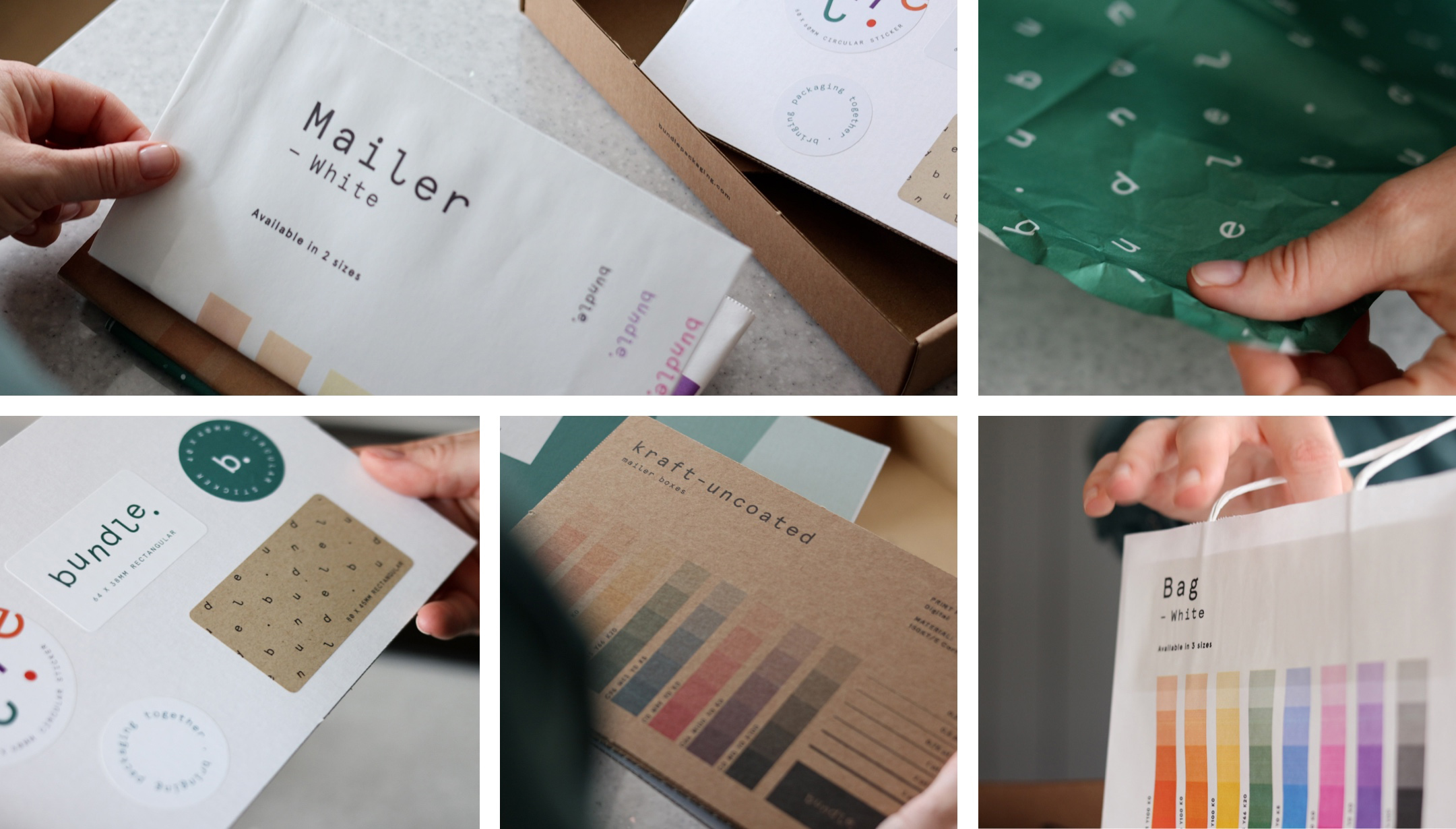 How to use your sample pack
The sample packs are best used in partnership with our helpful design guides and templates.
Every Bundle packaging product comes with a downloadable and "uploadable" template file. The templates provide guidelines on all product print sizes. Used in combination with our packaging sample, these give a complete guide to creating sustainable packaging that's beautiful and on-brand.
Before placing an order, we'll provide a print-ready PDF for you to check. You'll be able to see how your design will appear on the final printed products. It's the last step before the printing process.
We're unable to provide printed samples of our products.
How to order a sample pack?
Ordering a sample pack is simple. Add to your basket, checkout, and it'll be with you within four days.
Each sample pack costs £12.50 (excluding VAT).
Got any questions?
We hope we've answered all your questions on our sample packs here, but contact us if you want more information on our branded packaging products and printing services.
Check out our help centre for information, advice and guidance on Bundle packaging, including our sustainability credentials.