Benefits of Digital vs Litho Printing
Design Guides
Jun 01, 2022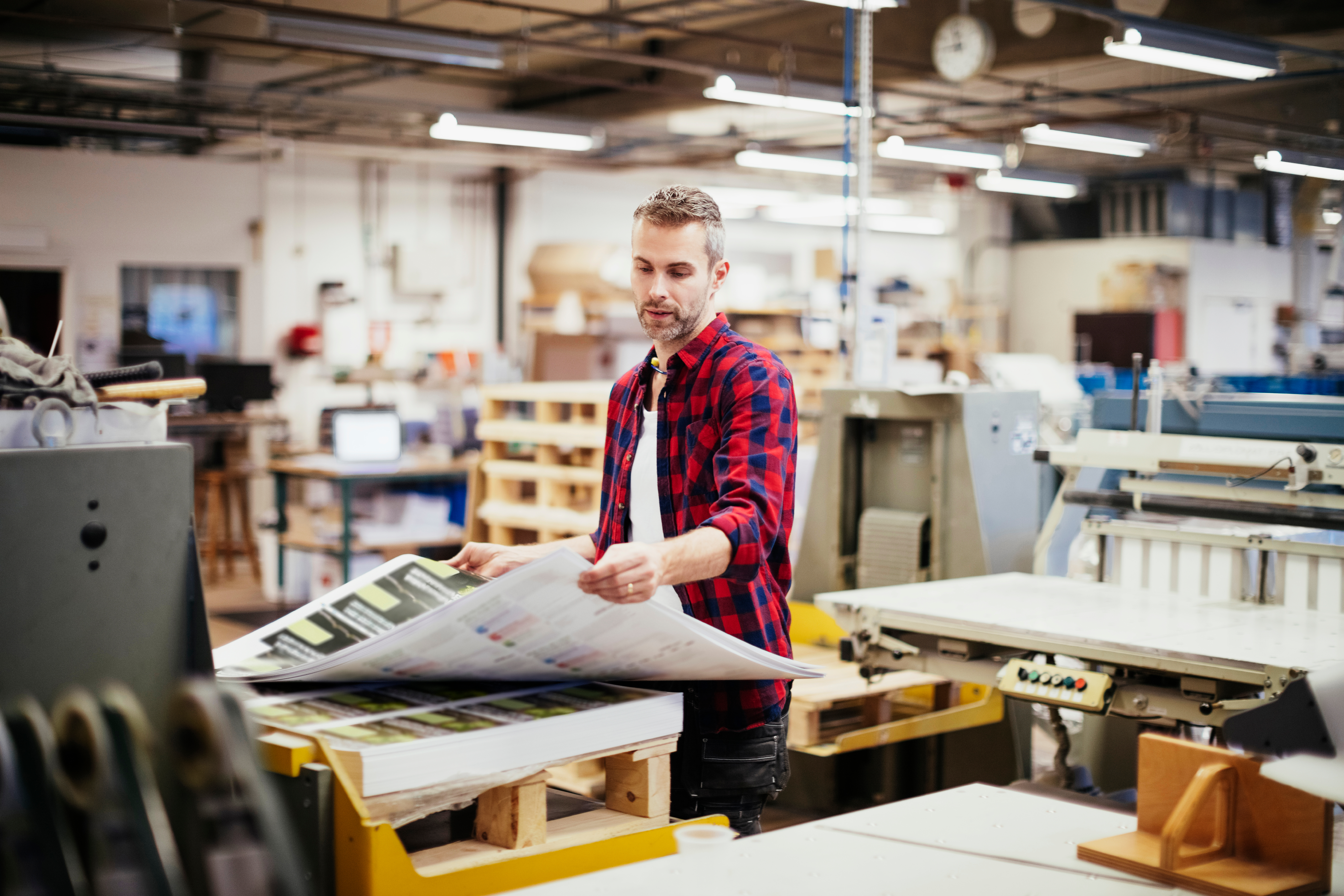 When printing product packaging, you'll be given a choice between digital printing and litho printing. But what are they, how do they work, and the benefits?
Each printing process has its advantages and disadvantages. In this guide to digital v litho printing, we explain the differences between the two approaches and discuss which option is suitable for your print project.
What is Litho Printing?
Litho, or lithography, printing is a high-quality process that uses wet ink and a series of printing plates to create your image.
A custom printing plate is created with your design. Colours are applied to the plate in sequence, with a cylinder rolling over the top to transfer the ink to the design. Using the CYMK colour model, all colours are applied sequentially in the litho press, leaving the finished product ready to dry.
Litho printing can be provided in one colour, two, three or four. In some cases, additional plates can be added for specific colours or inks (such as fluorescent ink). These are known as spot inks.
Litho printing has been around for hundreds of years and is recognised as an affordable way to create high-quality printed products. The ink soaks deeper into the paper, making litho a better choice for printing large blocks of colour, tints and gradients. Another benefit of litho printing is that the colour is smoother, and you won't see pixels from digital images.
Litho printing can take slightly longer to set up, as custom plates of your design need to be created. There are also additional up-front costs. However, once these have been covered, litho printing is faster, so it's often a better choice for large print runs.
Litho uses wet inks, which take longer to dry than digital print runs, so the process takes longer to complete. If you're using litho printing, you'll need to plan to ensure your finished printing is ready in time.
What is Digital print?
Digital printing uses the same CMYK colour palette to recreate images but uses a large printer with toner to complete the job. Commercial digital printers are larger versions of a home or office printer.
Digital presses use a pixelated image laid down onto paper, card or any other material to recreate your image. It's simple to set up and can accurately recreate PDF files and other digital files quickly.
One of the most significant advantages of digital printing is the speed of set-up. You simply load the file, click print, and it starts. This makes digital printing a much better option for small print runs. In addition, each piece can have different information printed on it (such as a ticket number) without attracting additional costs.
Digital printing is much quicker, meaning it's better for shorter runs. In addition, you can print on demand rather than having to print and store thousands of products. However, litho could be a better option if you're printing large volumes (thousands rather than hundreds).
As well as being cheaper than litho, digital printing is better for the environment. There's no need to create plates, there's no need to hold stock, and less ink is used during the print process. You'll also find that most digital inks are carbon-neutral, making them better for the planet.
Digital printing v litho printing
If you're still struggling to decide on digital printing v litho printing, here's how they stack up against one another on some critical factors.
Minimum order
Digital printing is better for smaller order numbers. However, when printing in large quantities, over 1,000, for example, litho printing, will be a more cost-effective choice.
Lead time
Litho printing requires the creation of printing plates, which can take several days to create. Digital printers can use a digital file and start working in seconds. Additionally, litho print has a longer dry time than digital print, meaning lead times are longer.
Speed
Digital printers can churn out around 5,000 pages an hour, but litho print processes can achieve up to 18,000 an hour. So there's no competition; litho printing is faster on the presses. However, the drying time is longer, so it evens itself out.
Cost
Digital printing is cheaper for short print jobs, but litho can be more cost-effective for larger print runs. Again, it depends on the amount of printing you need to do.
Print quality
Litho is considered the best quality print, particularly if you're printing large blocks of colour or images with gradients. However, it's hard to tell the difference between the two print processes in most cases.
Weight of materials
Digital printing is suitable for materials between 80GSM and 300GSM. Litho printing is ideal on a wider range of materials, from 60GSM to 500GSM.
Type of materials
Litho is better at printing on rough, textured, and coloured paper. On glossy, silk, and uncoated paper, digital and litho printing will be almost indistinguishable.
Range of colour
Litho printing offers a wider range of colours, with print quality better for large blocks of colour and grades of colour.
Personalisation
Digital printing enables you to personalise each piece, whereas personalisation is impossible using litho print plates. If you need to personalise your print, then digital is a better option.
Summary
We hope this guide to the benefits of digital and litho printing is helpful. The different types of print both have advantages that make them suitable for specific jobs. If you're planning a new print job, contact us, and we can talk you through your options. We're able to provide advice and guidance to help you achieve the best possible print results and the lowest price.